Oak Grove Cemetery – Gloucester, MA.
Oak Grove Cemetery in Gloucester, Massachusetts is the final resting place of at least 76 Babson descendants.
It was founded in 1854 by a group of six local businessmen, through the purchase of an oak grove bound by Washington, Grove, Derby Streets and Maplewood Avenue. The cemetery layout was part of the rural cemetery movement whose objective was to create internment sites in a beautifully landscaped area. The landscape architects, Robert Morris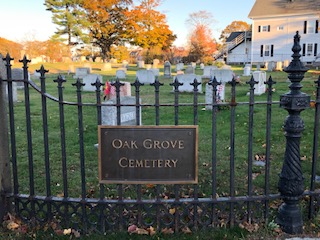 Copeland and Horace William Shaler Cleveland, took inspiration from renowned peer and contemporary, Franklin Law Olmstead, the architect of Central Park in New York City and the Emerald Necklace in Boston. They designed curving avenues within the cemetery work around boulders that dot the landscape. The Bradford Chapel, a Romanesque memorial made of Cape Ann granite, although no longer in use, still welcomes visitors at the front gates.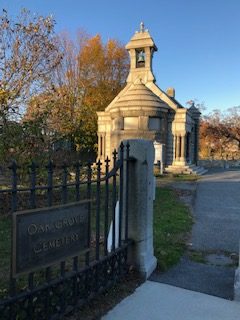 The cemetery now encompasses eleven acres in downtown Gloucester. Burial sites are no longer available. The cemetery was added to the National Register of Historic Places in 1975. The president of the seven person cemetery board of trustees is Matthew Babson, a trustee of the Babson Historical Association. The Association makes a small annual contribution to Oak Grove for maintenance of the walls and other structures.
The gravesites include one of the cemetery founders, Edward Babson (1811-1879), and his wife, Amanda Stanwood Babson (1811-1857), whose captain's log and daily diary form the 2014 installation, Strong Breezes and Passing Clouds, at the Cape Ann Museum in Gloucester. Other Babsons include John James Babson (1809-1886), a local historian whose History of the Town of Gloucester, 1860 was republished at the time of the 350th anniversary of the founding of Gloucester. A Babson connection whose headstone is found in the cemetery is the well-known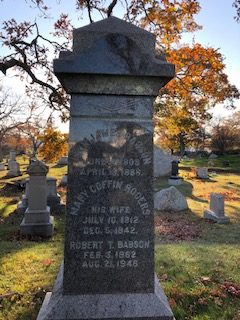 painter, Fitz Henry Lane (1804-1865), whose paintings form a permanent exhibit at the Cape Ann Museum . His magnificent paintings, The Babson and Ellery Houses, Gloucester (1863) and The Babson Meadows at Riverdale, 1863, are gifts of Isabel Babson Lane and Roger Ward Babson, respectively. Other Babsons include the ancestors of six current Babson Historical Association Trustees, Elmer (1874-1944) and Emma G. (1873-1954) Babson.