Strong Breezes and Passing Clouds
Look in the vestibule and entry-level restroom on the first floor for the permanent exhibit Strong Breezes & Passing Clouds that contains text and images from the 1838 ship's log of Capt. Edward Babson and the diary of his wife, Amanda Babson. For more on Captain Edward and Amanda Stanwood Babson, see here.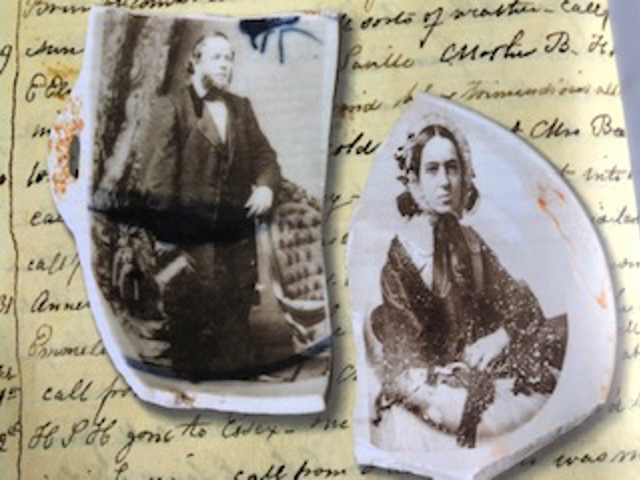 The installation by contemporary ceramic artist, Diane KW, is made up of approximately 200 shipwreck shards and six Chinese Export plates. The shards date from circa 1625 to 1865 and the Chinese Export plates from circa 1735 to 1750.  The excerpts from the log and the diary have been applied to the shards and plates; interspersed amidst the diary and log entries are family photos and excerpts from the Gloucester Marine Journal reporting ships lost or missing at sea as well as excerpts from the brig Cadet accounts book.
An 1840's painting of the brig Cadet by Fitz Henry Lane donated by Isabel Babson Lane  is found in the Fitz Henry Lane Gallery on the entry level floor of the Museum.