By Katherine L. Babson, Jr., Trustee of the Babson Historical Association
Generations of Babsons have been members of the Independent Christian Church in Gloucester, Massachusetts, the first Universalist Church in the United States, from its founding by a group of dissidents in 1779, to the present day.  Its proud history includes its break-away from the established church in Gloucester, a court case on the separation of church and state predating the First Amendment to the United States Constitution, and liberal stances on current issues of the day. 
FOUNDING OF THE INDEPENDENT CHURCH OF CHRIST
Captain James Babson, his wife, Rebecca Saunders Babson, and Captain Solomon Babson, were among the 31 men and women who banded together to create a break-away religious sect, calling itself the Free and Independent Church of Christ ("ICC"), under the leadership of Reverend John Murray, a preacher who had been "hounded" out of his pulpit in England.   The doctrine of Universalism was considered "extremely heretical and dangerous" because of its belief in universal salvation.  
In Massachusetts, "established" churches in cities and town were supported by public taxation imposed on even those who were not members of the established church.  In a landmark ruling brought by Reverend Murray against the congregants of the established church in Gloucester, the Supreme Judicial Court in Massachusetts ruled that members of other congregations could not be taxed to support a church to which they did not belong. [The defendants in Murray v. Inhabitants of The First Parish Church were represented by young Theophilus Parsons who went on to become Chief Justice of the Massachusetts Supreme Judicial Court.]  It was a ruling that predated the First Amendment to the United States Constitution on separation of church and state adopted five years later in 1791.
The three Babsons who were founding members of the first Universalist Church were:
Captain James Babson (1743-1790)
Born in Gloucester, Captain James was the captain of various ships, including the brigantine, General Mercer, which was a privateer.  On the coast of France, in company with a privateer from Philadelphia, he captured 2 or 3 brigs. He then commanded the Phoenix, another privateer, and dined with John Adams, then a diplomat in Europe, at Bilboa, Spain, probably in the evening of January 16, 1780. He and his wife Rebecca had four children, two of whom died in infancy.
Rebecca Saunders Babson Wigglesworth (1746/47-1797)
A Gloucester native, Rebecca married Captain James Babson in 1764.  Within the year of Captain James' death, Rebecca had remarried a widower, Colonel Edward Wigglesworth, of Newburyport, Massachusetts.  Only two of her children with Captain James reached adulthood.
Captain Solomon Babson (1740-1796)
Also a Gloucester native, he married Dorothy Brown in 1765 and together they had 9 children.  He owned and commanded various ships and was a privateer during the Revolutionary War.  He was lost at sea in 1796. See more here [  please provide link to Babsons Lost at Sea which is under Profiles.  ]
In addition to these three members, Dorcas Babson (1749-1836) was married to another founder, Epes Sargent, Jr. (1748-1822). Both born in Gloucester, they lived in Boston and had 9 children.
THE CHURCH BUILDINGS
Osman Babson and his descendants lived on the property where the first ICC was moved.  That church building had been erected in 1780.  It was a simple frame structure with no belfry.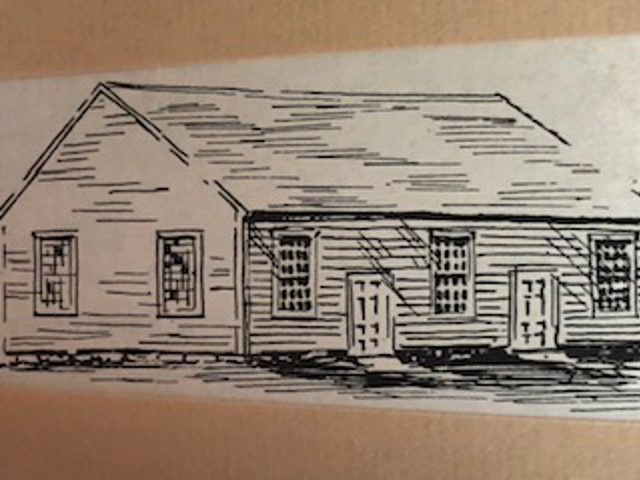 Sketch by Thomas E. Babson/Marcia Meyer found in Riverdale Story, privately printed, 1950.
Once the new church building was erected in 1806 on a new site (see below), the old church, purchased in 1811 by Colonel William Pearce, was moved to his farm in the Riverdale section of Gloucester for use as a barn.   In 1880 upon the centennial of the birth of Universalism in the United States, "thousands of Universalists visited the old barn as Mecca of liberal Christianity" on the Pearce farm.  The next year, in 1881, John Low Babson (1812-1898), the owner of a grocery store in Riverdale, bought the farm and old barn at auction from the Pearce heirs.  A year later, his son, Osman Babson (1842-1908), moved to the Riverdale farm with his wife and three sons.  He developed a truck gardening, apple orchard and diary business.  The barn is the structure to the extreme left: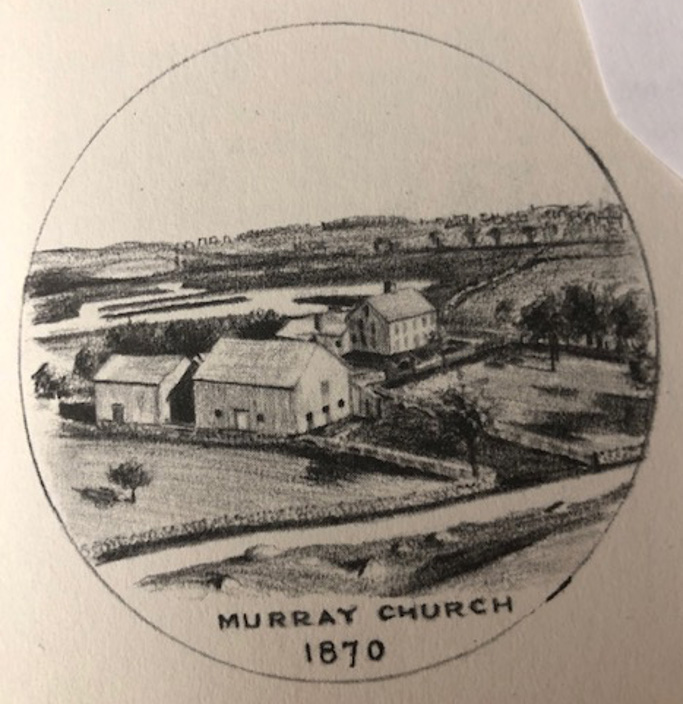 Sketch by Thomas E. Babson/Marcia Meyer found in Riverdale Story, privately printed, 1950.
In October 1883, a gale damaged the old barn so severely that Osman Babson had it taken down.  The farm was taken over by his son, Dr.  Elmer Warren Babson (1874-1944), a veterinarian, who built a veterinary hospital on the property.  He also served as Mayor of the City of Gloucester for a short time.  Elmer's son, Osman Babson (1908-1973), the Gloucester City Veterinarian for more than thirty years,  operated the farm and dairy until the early 1950's and continued his veterinary practice until his death in 1973. Learn more about Osman Babson.
A new church was built on its present location on Church Street in Gloucester in 1806 and remains standing to this day. It is now an Universalist Unitarian Church resulting from the merger of the Universalist Church of America with the American Unitarian Association in 1961. Listed on the National Register of Historic Places, the classically styled New England church is renown for its steeple after plans of Sir Christopher Wren and for the bell cast by Paul Revere. The Babson Historical Association donated to the restoration of the steeple several years ago.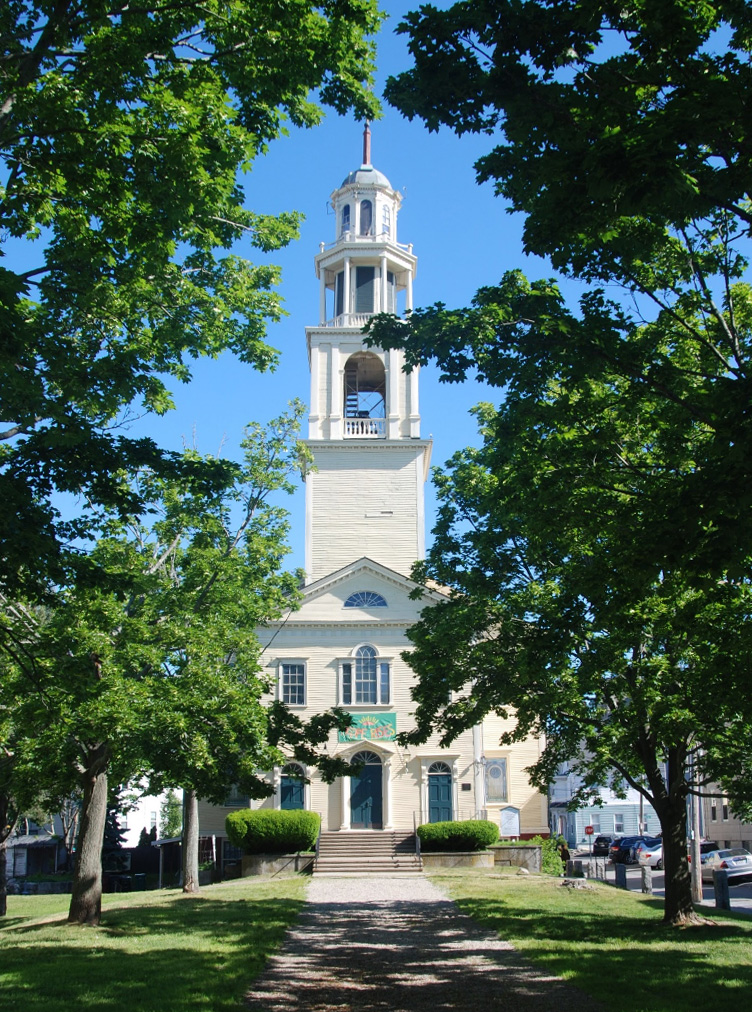 Universalist Unitarian Church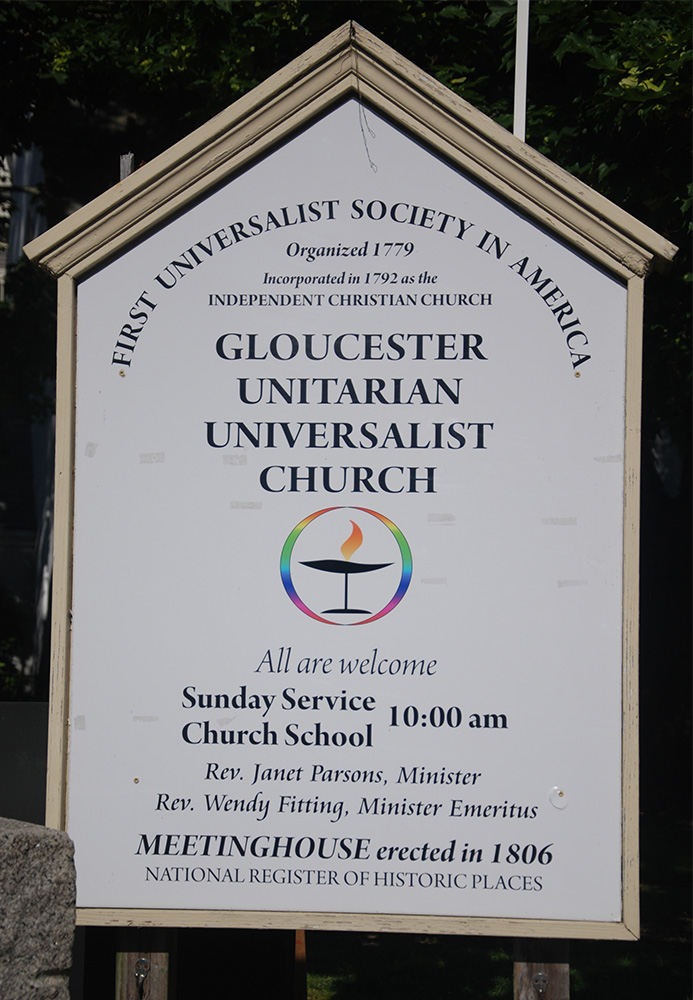 Gloucester Unitarian Universalist Church Marquee
The sources for this article are:
Cushing, John D., Notes on Disestablishment in Massachusetts, 1780-1833, The William and Mary Quarterly, Apr. 1969, Vol.26, No. 2, pp.169-190.
Gloucester Unitarian Universalist Church website at www.gloucesteruu.org
Thomas E. Babson, comp., Riverdale Story: a Family Scrap-book of the Forebears and Descendants of Osman and Marcia Babson (Gloucester, Mass.: 1950).